Poomsae and Sparring Divisions will follow USAT age and belt divisions. Divisions (except Cadet, Junior, Senior black belts) will be divided into a division of 4 competitors.
USA Taekwondo Kyorugi Competition Rules From January 1 2015 V2.pdf
4-5 year old
6-7 year old
8-9 year old
10-11 year old
12-14 year old
15-17 year old
17-32 year old
32+
WEAPONS CREATIVE POOMSAE DIVISIONS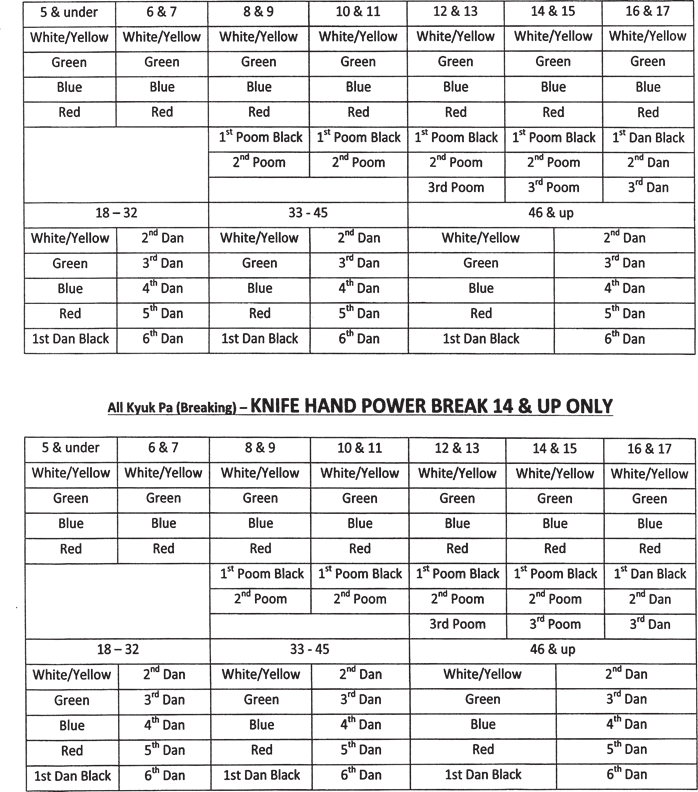 Side Kick and Back turning Kick (Back Kick) Breaking Event
Kicking technique should be followed as in the Kukkiwon textbook.
Method of contest: Ranking system (More breaking gets higher rank.)
Contest time: 30 seconds or less
Attire: Approved Dobok
Compulsory Provisions
Targets used in breaking events must be those authorized by the Organizing Committee.
In principle, the foot cannot be covered by bandages or any other materials.
Use of any materials covering the foot due to injury must be approved by the Referee.
Side Kick breaking must be done with the sole of the foot or outer part of the foot.
The height of breaking materials must be higher than the contestant's waist.
Breaking is conducted only once.
Technique will be allowed for the following acts:
Contestants are permitted to lift one foot off of the ground while applying their technique.
Contestants are permitted to apply their technique using either their front foot or back foot.
Warning penalties are given to the followingacts:
Disturbing another contestant's performance
Disobeying the Referee's instruction
Deduction penalties are given to the following acts:
Touching the ground with any part other than the foot after breaking
Exceeding the contest time: Deduct one point for each ten seconds.
Disqualification penalties are given to the following acts:
The competitor's name is different than what is on the Contestants List.
Falling down afterbreaking
Breaking in any dishonest way
individual Creative Breaking
Method of contest: Ranking system based on scoring criteria below.
Contest time: 60 seconds for preparation and 60 seconds for execution when referee states Shi-jak
Attire: Approved Dobok
Maximum amount of boards is 10. The minimum is 1.
Boards will be provided bytournament committee
No alterations are allowed. Such as adding a board fragment.
No props may be used
Each board may be attempted to break three times.
Scoring criteria:
Every contestant starts with 50 base points
10 points for creativity and difficulty
10 points for execution
10 points for presentation
10 points for Taekwondo spirit
Deductions
1-point penalty for every second exceeding the time limit in either preparation or performance
1-point penalty for every attempt after the first
1-point penalty for going out of bounds
1 point for unsportsmanlike conduct