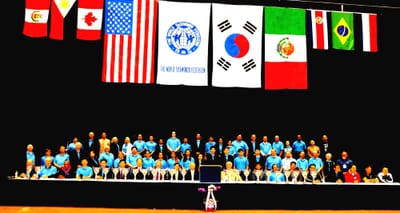 Grandmaster Won Chik Park, founder and tournament director, created this championship in October of 1981. The early tournaments were held at Texas Christian University (TCU) in Fort Worth, Texas.. As the tournament grew and grew, every year, it became necessary to move the tournament to a larger venue. The new home became the Fort Worth Convention Center in 1986 and has been held there ever since.
In 1997, the tournament's name was officially changed from the Fort Worth Invitational to the Fort Worth International Taekwondo Championships. Modifying the tournament to an international event has given the champions valuable international recognition and exposure. As word of this change made its way around the national and international communities, the event has drawn ever-increasing numbers of participating nations, making Fort Worth a great Taekwondo city and the United States a leader in martial arts interest and championship tournament participation.
What has remained consistent is the same work and dedication that goes into the planning and production of this tournament each year, making it one of the largest Taekwondo championships in the United States,. The tournament is recognized by the World Taekwondo Federation and supported by the Texas Taekwondo Association.